Original article

Open Access
Resolving the spatial relationship between intracellular components by dual color super resolution optical fluctuations imaging (SOFI)
Received: 20 August 2012
Accepted: 7 February 2013
Published: 25 February 2013
Abstract
Background
Multi-color super-resolution (SR) imaging microscopy techniques can resolve ultrastructural relationships between- and provide co-localization information of- different proteins inside the cell or even within organelles at a higher resolution than afforded by conventional diffraction-limited imaging. While still very challenging, important SR colocalization results have been reported in recent years using STED, PALM and STORM techniques.
Results
In this work, we demonstrate dual-color Super Resolution Optical Fluctuations Imaging (SOFI) using a standard far-field fluorescence microscope and different color blinking quantum dots. We define the spatial relationship between hDcp1a, a processing body (P-body, PB) protein, and the tubulin cytoskeletal network. Our finding could open up new perspectives on the role of the cytoskeleton in PB formation and assembly. Further insights into PB internal organization are also reported and discussed.
Conclusions
Our results demonstrate the suitability and facile use of multi-color SOFI for the investigation of intracellular ultrastructures.
Keywords
Dual colorSuperresolutionFluorescence microscopySOFIP-bodies
Background
Despite the availability of microscopy methods that offer nanoscale resolution (like electron and scanning probe microscopies), far-field fluorescence microscopy (FFFM) is nevertheless the most commonly used imaging tool in biology. This primacy is due to FFFM's unique advantages, including the ability to work with live specimens, excellent bio-specificity and sensitivity, minimal perturbation, direct display and visualization of the specimen, and versatility and simplicity of usage. FFFM is therefore the preferred tool for investigating spatial organization of cell components. However, Abbe's intrinsic diffraction barrier limits the resolving power of the optical microscope to about half the excitation (and/or emission) wavelength, masking important information on morphology and co-localization of cellular components. Recently, several ground-breaking super-resolution (SR) imaging techniques (Bates et al. 2007; Betzig et al. 2006; Hess et al. 2006; Hell 2003; Hell and Wichmann 1994; Gustafsson 2000; Heintzmann et al. 2002) have been developed, and with their aid, previously unresolved biological questions have found new answers (Bates et al. 2007; Donnert et al. 2007; Shroff et al. 2007; Huang et al. 2008). The dissemination and wide-adaptation of SR over the last decade has been phenomenal, pointing to the revolutionary potential of these methods. Nonetheless, first generation commercial (and even-home-built) SR microscopes are expensive, and are not yet simplified to the 'push-button' level that affords the facile use by the non-expert. Additionally, these methods often require long acquisition (and therefore exposure) times and relatively high intensity excitation/depletion/photo switching lasers that limit the applicability to photo-resistant samples. Stochastic techniques such as PALM (Betzig et al. 2006) and STORM (Rust et al. 2006; Bates et al. 2007) are restricted to the use of photo-switchable emitters. A continuous effort has been expended in recent years to further simplify SR techniques and make them more affordable. In particular, methods that rely on conventional (and already deployed) microscopy platforms and standard fluorophores have been pursued (Burnette et al. 2011; Simonson et al. 2011; Dertinger et al. 2009; Dertinger et al. 2010a). In this context, Super-resolution Optical Fluctuations Imaging (SOFI) (Dertinger et al. 2009; Dertinger et al. 2010a; Dertinger et al. 2010b; Dertinger et al. 2012b; Dertinger et al. 2012a; Geissbuehler et al. 2011; Geissbuehler et al. 2012) offers the attractive possibility of performing SR imaging with a standard FFFM and blinking fluorescent probes such as quantum dots (QDs) (Dertinger et al. 2009; Dertinger et al. 2010a; Dertinger et al. 2012b), the fluorescent proteins Dronpa and rsTagRFP (Dedecker et al. 2012), and even non-fluorescent blinking nanoplasmonic probes (in press). SOFI is based on high-order spatio-temporal statistical analysis of stochastic blinking of independent emitters or scatterers (Dertinger et al. 2009) recorded in a sequence of frames. Multiple order SOFI analysis, combined with re-weighting of the Optical Transfer Function (OTF) (or with deconvolution (Dertinger et al. 2010a)), increases the resolution over the diffraction limit by a factor of n, n being the correlation (cumulant) order. In addition, spatiotemporal cross-cumulants calculation leads to an increase in the numbers of pixels that constitute the SOFI (SR) image (Dertinger et al. 2010a). In this work, we show a new procedure for performing two-color SOFI (2cSOFI) on fixed cells by using different color light emitting QDs. In particular, we demonstrate that 2cSOFI can effectively resolve the spatial relationship between the microtubule cytoskeleton and hDcp1a, a constitutive processing body (P-body, PB) protein. PBs (Liu et al. 2005; Sen and Blau 2005) are recently discovered protein-RNA aggregates, implicated in degradation, storage and silencing of mRNAs. PBs appear to be spatially confined along the microtubule network (Aizer et al. 2008), which in turn seems to regulate their formation and assembly (de Heredia and Jansen 2004; Shav-Tal and Singer 2005). Therefore, knowledge of the spatial correspondence between these two intracellular structures is of particular interest. In addition, PBs are ideally suited, due to their small dimensions (a few hundreds of nanometers), to be studied by SR imaging.
Methods
2cSOFI imaging was performed on fixed, wild-type HeLa cells and on U2OS osteosarcoma cells, stably transfected with a GFP-hDcp1a fusion protein and selected for a moderate expression level (Aizer et al.
2008
). Instead of performing regular immunofluorescence with a primary and secondary antibody, the labeling was performed with primary antibodies directly conjugated to QDs. This affords higher density labeling, which is important for SR imaging. The average diameter of QDs conjugates was measured to be
ca
. 22 nm (considerably smaller than the resolution afforded by SOFI). PBs were labeled with 625-nm emitting QDs conjugated to anti-hDcp1a primary antibody (rabbit) (Abcam, USA); the tubulin network was labeled with 800-nm emitting QDs conjugated to anti-alpha-tubulin primary antibody (rabbit) (Sigma-Aldrich, USA). Control experiments for antibody selectivity were performed to validate the conjugates (see Additional file
1
: Figure S1), in particular the co-localization of anti-hDcp1a QD conjugates with GFP-hDcp1a was used to confirm the labeling of cytoplasmic PBs (see Figure
1
a-c). Since QD blinking obeys a characteristic on/off power law distribution, fluorescence fluctuations could be observed on all time scales (Kuno et al.
2001
). This property is particularly useful since good matching between blinking rate and camera frame rate is easily achieved. Together with their intrinsic high brightness and excellent photostability, QDs are well suited for SOFI imaging. The two color data sets were acquired sequentially by changing filter-sets while maintaining the focal plane unchanged. Movies of 2000 frames were collected for each color. Chromatic aberrations and misalignment between channels were minimized, and measured to be well below the achieved SOFI resolution (see Microscope Set Up and Data Analysis); the absence of stage drifting during movie acquisition was verified by the use of fiducial markers (data not shown).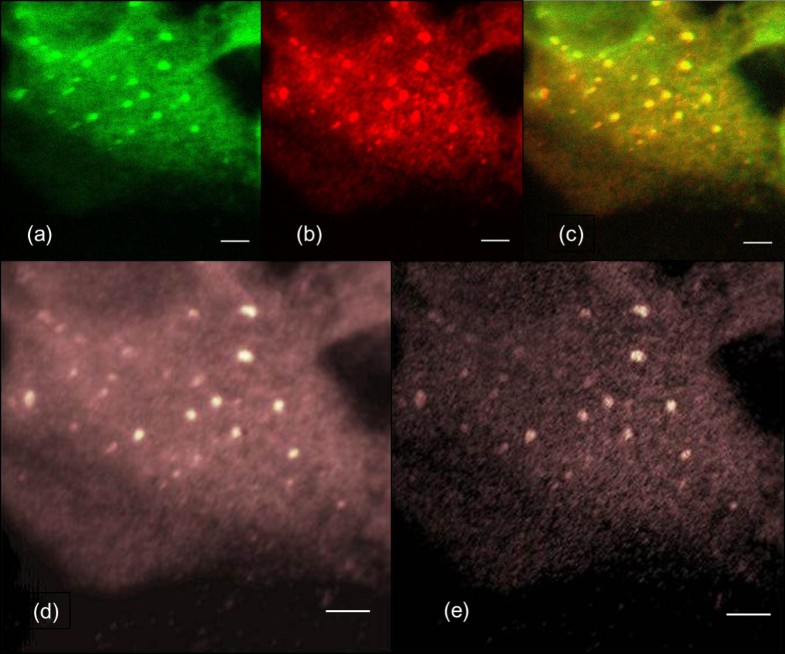 Results and discussion
Based on immunogold electron microscopy experiments, PBs are generally described as non-membrane enclosed fibril aggregates of spheroidal shape (Yang 2004). On the contrary, SOFI imaging shows an unexpected doughnut-like appearance for several, but not all, detected PBs. In particular, 58% of SOFI-processed images showed a ring-like structure with a central dip above the background noise level. These structures were not specific to the U2OS cell line (as observed, for example, in Figure 3i), but they were also observed in HeLa cells (Additional file 1: Figure S7). We further investigated PB ultra-structure by treating U2OS cells with puromicyn, an antibiotic known to increase the number and the size of PBs (Eulalio et al. 2007). The SOFI image (Figure 1e) indeed shows an increase in size and number, and partial loss of the circular shape for most PBs in the field-of-view. Interestingly, doughnut-like PBs were never observed in puromycin treated cells. Inconsistencies in the observed PB morphologies could be due to their different maturation stage. We confirmed that the doughnut-shape is not an artifact of the Fourier re-weighting algorithm (see Additional file 1: Figure S7), but cannot rule-out artifacts due to experimental limitations such as insufficient resolution, incomplete labeling due to steric hindrance, and SOFI algorithmic issues.
On the other hand, the doughnut-shape morphology is consistent with a two-dimensional projection of a spherical shell organization of hDcp1a around the PB core, a feature that is common to several other cellular compartments as, for example, sub-cellular protein vesicles (Bates et al. 2007) and promyelocytic leukemia nuclear bodies (PML-NBs) (Lang et al. 2010). Moreover, it is strongly corroborated by recent Fluorescence Recovery After Photobleaching (FRAP) experiments (Kedersha et al. 2005; Leung et al. 2006; Aizer et al. 2008). While in this study we cannot determine whether the doughnut shape of the PBs is of real structural significance, it should be noted that a bi-compartment model of the PB structure demarking a core region and an outer peripheral region has been demonstrated by electron microscopy (Weil et al. 2012). Moreover, several studies have shown that RNAs and factors can localize differentially to a peripheral domain distinguishable from a PB core domain (Weil et al. 2012, Pillai et al. 2005, Carbonaro et al. 2011). This compartmentalization might serve for the functional separation between a core area of degradational activity and a surrounding area of recruitment and storage and deserves further investigations by higher resolution techniques.
Conclusions
We demonstrated that dual color SOFI is suitable for SR morphology and SR co-localization studies of cellular components. The observed co-localization patterns between PBs and the microtubule network are in agreement with previous studies (Aizer et al. 2008). Furthermore, SOFI imaging revealed that cytosolic hDcp1a monomers (or small aggregates) are preferentially located along tubulin filaments. This finding suggests that the role of the microtubule cytoskeleton is not limited to only anchoring PBs, but possibly to also provide molecular tracks for monomer trafficking, delivery and exchange (Shav-Tal and Singer 2005; de Heredia and Jansen 2004; Aizer and Shav-Tal 2008).
Abbreviations
2c:

Two color
EMCCD:

Electron-multiplying charge-coupled device
FFFM:

Far-field fluorescence microscopy
FRAP:

Fluorescence recovery after photobleaching
GFP:

Green fluorescence protein
NA:

Numerical aperture
OTF:

Optical transfer function
PALM:

Photo-activated localization microscopy
PB or P-body:

Processing body
QD:

Quantum dot
Rc:

Resolution in conventional FFFM images
Rs:

Resolution in SOFI images
SR:

Super-resolution
STED:

Stimulated emission depletion
STORM:

Stochastic optical reconstruction microscopy
SOFI:

Super resolution optical fluctuations imaging
Sulfo-SMCC:

Sulfo-succinimidyl 4-(N-maleimidomethyl) cyclohexane-1-carboxylate
Declarations
Acknowledgements
This work was supported by NIH grant #5R01EB000312, NIH grant #1R01GM086197 and the Marco Polo Program of University of Bologna. Work in the lab of YST is supported by the European Research Council (ERC).
Authors' Affiliations
(1)
Department of Chemistry and Biochemistry, Department of Physiology, and the California NanoSystem Institute (CNSI), University of California Los Angeles, Los Angeles, USA
(2)
Department of Chemistry "G. Ciamician", University of Bologna, Bologna, Italy
(3)
SOFast GmbH, Berlin, Germany
(4)
The Mina & Everard Goodman Faculty of Life Sciences & Institute of Nanotechnology, Bar-Ilan University, Ramat Gan, Israel
Copyright
© Gallina et al.; licensee Springer. 2013
This article is published under license to BioMed Central Ltd. This is an Open Access article distributed under the terms of the Creative Commons Attribution License (http://creativecommons.org/licenses/by/2.0), which permits unrestricted use, distribution, and reproduction in any medium, provided the original work is properly cited.